Travel from Berlin to Krakow visiting important historic sites relating to WW2 and concentration camps, with learning service at Auschwitz - Birkenau Memorial and Museum.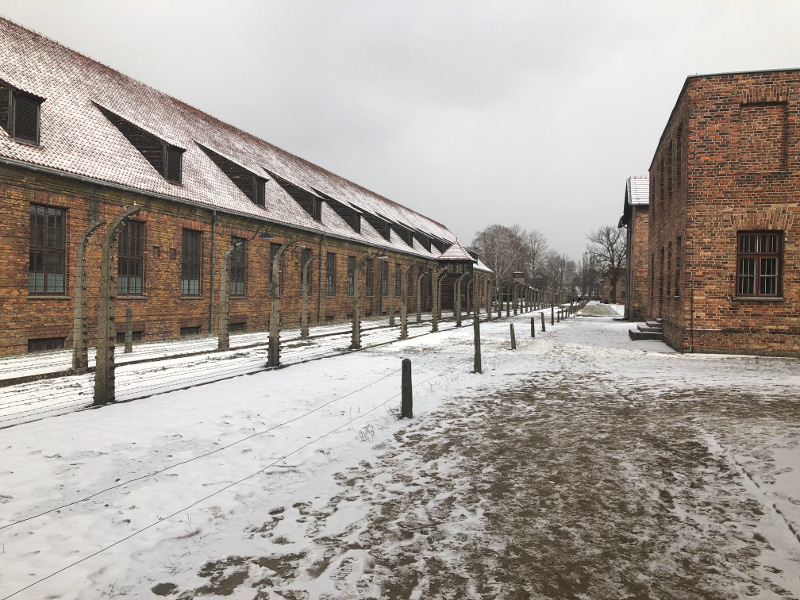 World War II was the deadliest conflict in human history, marked by over 50 million fatalities.  The majority of these were civillians who succumbed to massacres, the deliberate genocide of the Holocaust, strategic bombing, starvation, and disease.  WW II escalated on 1 September 1939 with the invasion of Poland by Nazi Germany.
During the conflict, the ruling party in Germany sought to gain new territory and create a pure society.  This ideology led to the persecution and extermination of Jews, Roma (Gypsies), people with disabilities, Poles, Soviet prisoners of war, Afro-Germans, and others.  Concentration camps were established across occupied Europe, in efforts to control these populations.
Over 1.1 million victims lost their lives at Auschwitz-Birkenau alone.  At the end of the war, this site was protected, to commemorate all who died and suffered during this regime.
This Immersion Service Learning experience introduces participants to the complex history surrounding WW2, from a German and Polish perspective.  Events leading up to the cultural cleansing in Europe, the reality of prison camps, and the aftermath of the war are explored.  Participants tour important historic sites and memorials in Berlin ,and spend a study day in Wannsee, where plans for genocide were mapped out in 1942.  In Poland, students visit Krakow and participant in learning service at the Auschwitz - Birkenau Museum and Memorial in Oswiecim. 
Transportation
Group members fly into Berlin and fly from Berlin to Krakow mid-week.  The group departs from Krakow on their return.  Participants may walk, travel by public transport bus/train, or shuttle during this trip.
Housing & Meals
Participants stay in hostels in Berlin and Krakow, at the Centre for Dialogue and Prayer in Poland.  Simple but comfortable rooms typically have two to four students sharing and residence-style washroom facilities.  Breakfast is provided in hostel, and meals are provided at the Centre for Dialogue and Prayer.
SERVICE PLACEMENTS AND GROUP SESSIONS
A service day at the House of Wannsee in Berlin, involves educational programming that has participants work with source to actively engage in history.  In Poland, participants complete learning service study days at Auschwitz-Birkenau Memorial and Museum.  Reflection sessions take place at the Centre for Dialogue and Prayer.  Local facilitators help participants interpret their daily experiences and place this experiential knowledge within the broader framework of social justice, and current political issues.  Participants complete their service with post travel public presentation of their research and reflections.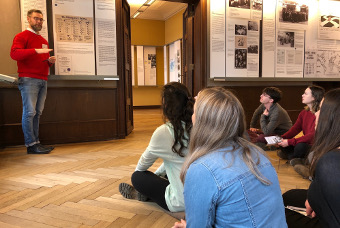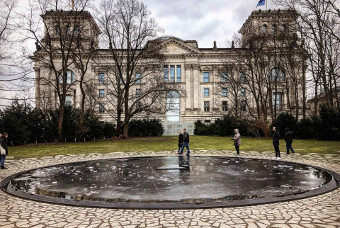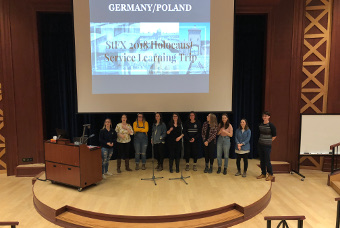 MORE INFORMATION
MIEJSCE PAMIĘCI I MUZEUM ♦ AUSCHWITZ-BIRKENAU ♦ BYŁY NIEMIECKI NAZISTOWSKI ♦ OBÓZ KONCENTRACYJNY I ZAGŁADY


Contact
Service Learning
373 Coady International Institute
4780 Tompkins Lane
Antigonish NS B2G 2W5
Canada