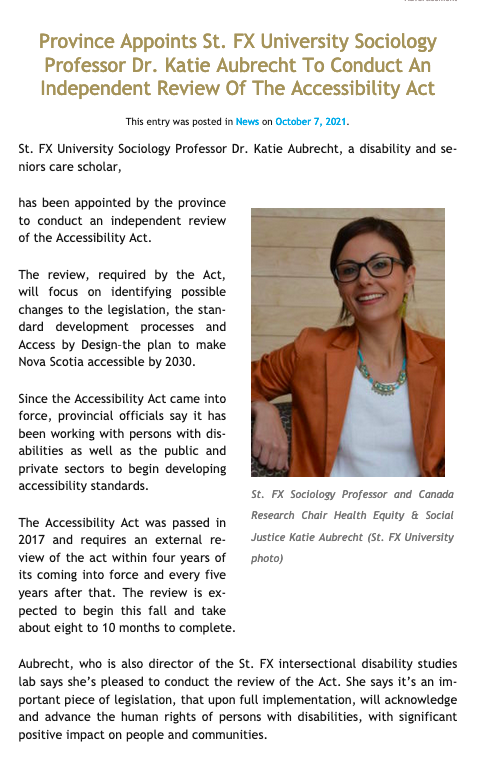 Province of Nova Scotia appoints Spatializing Care Lab Director Dr. Katie Aubrecht to conduct an independent review of the Nova Scotia Accessibility Act (photo of Dr. Aubrecht included above, a white mid-aged woman with dark brown hair, brown eyes, glasses and an orange jacket).
Link to Government Press Release
Review website: https://nsaccessreview.ca/
Op-Eds:
Seniors-Adding Life to Years (SALTY) Project
Daly, T., Bourgeault, I., & Aubrecht, K. (2021). Policy Options. Moving long-term care from a vicious to a virtuous cycle.
Daly, T., Bourgeault, I., & Aubrecht, K. (2020). Policy Options. Long-term residential care work: recognized as essential but still essentially under-recognized.  
StFX News:
Media Interviews: 
Sutherland, S. (2020, October). Nova Scotians report the highest level of COVID-19 related anxiety in the country. CBC Cape Breton Information Morning. 
Hande, A. (2020, October). The echo pandemic of mental health. Global News Morning Halifax. https://globalnews.ca/video/7382978/the-echo-pandemic-of-mental-health 
McPhee, J. (2020, October). Poll: Nova Scotians most anxious in country during pandemic. The Chronicle Herald. https://www.thechronicleherald.ca/news/local/poll-nova-scotians-most-anxious-in-country-during-pandemic-504581/ 
Kingston, K. (2020, October). New polls show Nova Scotians are reporting the highest levels of anxiety and depression in Canada due to COVID-19. 989XFM. https://www.989xfm.ca/new-poll-shows-nova-scotians-are-reporting-the-highest-levels-of-anxiety-and-depression-in-canada/ 
Gorman, M. (2020, June). Nova Scotia researchers eye improvements to health-care system post COVID-19. CBC. https://www.cbc.ca/news/canada/nova-scotia/covid-19-health-care-dementia-long-term-care-medicine-1.5602168 
Kingston, K. (2020, May). St.FX Sociology professor Katie Aubrecht studies program and supports for older adults living with dementia and how it has changed with COVID-19. 989XFM. https://www.989xfm.ca/st-fx-sociology-professor-katie-aubrecht-studies-program-and-supports-for-older-adults-living-with-dementia-and-how-it-has-changed-with-covid-19/ 
Contact
Spatializing Care Lab
4130 University Ave
Antigonish NS B2G 2W5
Canada