Faculty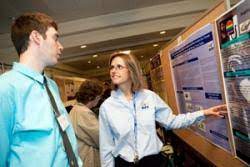 Faculty are an integral part of the Service Learning program. There are two distinct opportunities for Faculty to engage with the Service Learning program: Course Based Service Learning (CBSL) and Immersion Service Learning (ISL). In addition, immersion community partners can be available for virtual in-class presentations.
Course Based Service Learning (CBSL)
Course Based Service Learning (CBSL) is a form of experiential education where students work with community members on local community issues and where academically rigorous assignments are designed to link those experiences explicitly to specific learning outcomes. CBSL consists of an assignment within an existing discipline-specific course. It is the choice of the professor whether to offer service learning in the course, and whether it is an optional or mandatory assignment. The professor, with support from service learning staff, if desired, determines the appropriate community projects and designs the assignment and grading criteria according to course objectives.
Service Learning projects are of multiple types: Direct Service, Consulting Projects, Community Based Research and Ongoing Course Based Service Learning Programs.
Cultural Anthropology students visit elderly people and write their life stories; (ethnographies) for local museums and community archives.
Modern Languages students write children's books in Spanish and read them to toddlers at the local library.
Accounting students deliver financial literacy workshops for marginalized/vulnerable communities.
Human Kinetics students learn about movement disorders while supporting individuals with Parkinson's' Disease in a walking club.
Psychology students evaluate online resources for teaching mental health literacy in the classroom.
IDS students work with a women's shelter to develop events and promote the organization's programs that serve to prevent family violence.
Information Technology students design websites or databases for NGO's and teach their staff how to use them.
Management students work with non-profits on projects such as grant writing and report writing.
Environmental Studies students help communities do research regarding polluters and how to oppose it.
Sociology students do research on local restorative justice programs and recidivism rates.
History students research the origins of religious artifacts on behalf of a local church.
Human Nutrition students research healthy recipes for a cook book based on the weekly options available at the local food bank.
Ongoing Course Based Service Learning Programs
Motor Activity at StFX - physical activity program for children with disabilities.
Fit for Life - after school physical activity program to keep children active and health.
Art for Kids - after school art program for elementary school children.
Homework Program - after school tutoring program for elementary school children
Service Learning Program staff are available to assist with all aspects of implementing a service learning assignment, from finding community placements for the students to evaluating these placements.
Immersion Service Learning (ISL)
Faculty can also have a role as an Immersion leader in our Immersion Service learning placements In ISL, students travel in groups with an Immersion leader, to provide service in a cross-cultural setting. Immersion Service Learning (ISL) is an intense cross-cultural experience offered during Reading Week or at the end of second term. Students and Immersion leaders prepare for the experience through two mandatory workshops and three or more group meetings.
See ISL webpage of various immersion opportunities.
Virtual Immersion Community Partner In-Class Presentations
Immersion Service Learning community partners have expressed an interest in virtual experiences. Community partners are available to be virtual guests in classrooms for discussions about a variety of topics including reconciliation, poverty, food security, child labour, racism, access to education, etc. If you are interested in having a virtual international visitor in your class to discuss an issue relevant to your course content, please contact the Service Learning Team.
Contact
Service Learning
373 Coady International Institute
4780 Tompkins Lane
Antigonish NS B2G 2W5
Canada